In This Section
Corn / Maize Gluten Feed
Corn Gluten feed is a by-product of the wet milling of corn to produce cornstarch, sweeteners, oil and other products. Corn Gluten is a fiber-rich ingredient, containing significant amounts of nutritious protein and starch. It is used as a feed additive in cattle diets as a source of energy and protein that is beneficial to digestion and absorption. It's the only effective natural pre-emergent herbicide in turfgrass industry.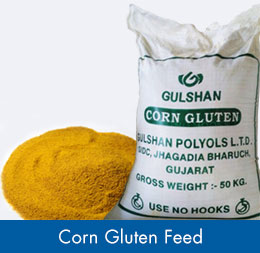 Features
Rich protein content
Longer shelf life
Easy to digest
Purity
Applications
Corn Gluten Feed is commonly used as a medium level protein and energy source. It is used as follows:
It is used in the feeding of ruminant animals (milch cows)
Used in the feeding of poultry
Also used in the feeding of pigs
Corn gluten is used in the feeding of fish
It is used in the feeding of pets (dogs, cats)
Specification
Parameters
Specifications
Neutral Detergent Fiber
45.0 %
Acid Detergent Fiber
13.0 %
Total Digestible Nutrients
83.0 %
Net energy—Lactation
87 Mcal
Packaging
Corn Gluten is packed in 25kgs Bags. It can also be customized as per individual requirements.