Onsite / Satellite PCC Plant
In This Section
Onsite / Satellite PCC Plant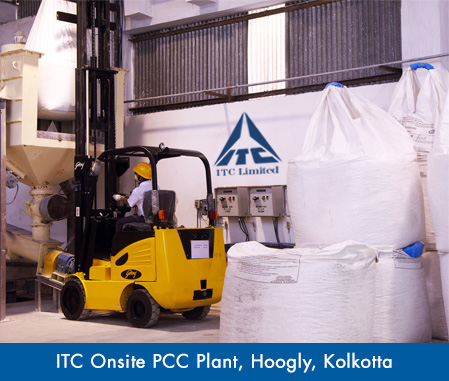 In an On-site Plant, PCC (Precipitated Calcium Carbonate) is produced in a satellite facility; onsite or close to a paper mill and the resultant slurry is pumped directly to the mill. In this arrangement, all plant and equipment required for producing PCC are installed under lease agreement in the premises of its end user. The utilities like Power, Water, Steam and the CO2 from the boiler stake (going into the air after ESP) are used to make PCC in slurry form for its use in paper application. This unique environment friendly technology not only reduces the energy consumption and drying time but also utilizes the CO2 emitted from the boilers.
Gulshan Polyols Ltd is the first to introduce the concept of On-site PCC plant in India, at the site of Magnum Papers ltd. This has been recorded in the Limca Book of Records, 2010.Gulshan provides the know-how to set up an On-site PCC plant and maintains the supply of the raw material for the same. After success of its first partnership in this field, it is tying knot with other paper mills for On-site PCC technology.
Dr. Vasant Chapnekar, an eminent technologist, responsible for introduction of PCC in alkaline paper in U.S.A. is associated with Gulshan Polyols Limited. With joint efforts, the company has installed its technology in manufacturing PCC and supplying it to the customers. Gulshan is supplying PCC for alkaline paper to Paper Mills like ITC Ltd, TNPL, BILT, Shree Krishna Paper Mills Ltd etc.
Applications of Onsite PCC/WGCC:
As filler for writing and printing, photo copier paper.
As filler for cigarette paper.
As Coating pigments
Surface finish
Brightness
Benefits of Onsite PCC plant
Economy in cost, production and supply chain
No transportation costs because of on-site plant
Readily available of raw material
Improves paper properties like brightness, opacity, bulk, scattering-coefficient & printability.
Brings quality at par with international standard
Reduces the consumption of OBA and Titanium
Provides a ready to use cheaper filler as compared to merchant facility
Increases filler loading in paper
Gulshan's Onsite Projects for paper PCC
ITC Ltd. Hoogly, Kolkotta (PCC)
Orient Paper Mill, a Birla Group Company, Amlai, Madhya Pradesh (PCC)
Bashundhra Multi Paper Industries Ltd. (BMPIL), Meghnaghat, Bangladesh (PCC)
Bashundhra Multi Paper Industries Ltd. (BMPIL), Joya, Bangladesh, (WGCC)
DSG Paper Mill Ltd., Patiala, Punjab (PCC)
Magnum Paper, Sahibabad, Uttar Pradesh (PCC)