In This Section
Corn Steep Liquor (CSL)
Corn steep liquor is a high-protein, high-energy feed ingredient made from the soluble parts of the corn kernel through a steeping process. It is a viscous liquid mixture consisting entirely of water-soluble components of corn steeped in water. CSL is a kind of byproduct produced in the processing course of corn starch. It is widely used in liquid form in pig and ruminant feeds and as a binding or pelleting agent in other feeds. These Corn Steep Liquors are a premium additive to the cattle feed. Owing to the high nutritive content (rich in vitamins, lattice acid and proteins) of the Corn Steep Liquor, it is valuable for Enzyme, Animal Feed and Pharmaceutical industries.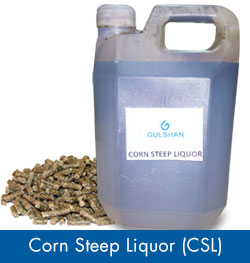 Appearance
Concentrated liquid
Color: Tan to Brown
Applications
It is used as a nutrient for microorganisms in the production of enzymes, antibiotics, and other fermentation products.
It is sometimes combined with other ingredients in corn gluten feed and widely used in complete feeds for dairy and beef cattle, poultry, swine, and pet foods.
It may also be sold separately as a liquid protein source for beef or dairy rations.
Cattle Feed – Swine / Ruminants
Fishing Bait
Fertilizers
Binding / Glue Agent
Quality Specifications
Specification
% (Wet Basis)
% (Dry Basis)
Crude Protein
22 – 24
44-48
Specific Gravity
1.15-1.25
-
Boiling Point
100-101°C
-
Packaging
Corn Steep Liquor is packed in 250kgs HDPE drums. It can also be customized as per individual requirements.