Malto Dextrine Powder (MDP)
In This Section
Maltodextrin
Malto Dextrin is produced from starch of Corn & Rice by hydrolysis not exceeding 20DE. It is easily digestible, being absorbed as rapidly as glucose, and might be either moderately sweet or almost flavorless and more easily tolerated by the diabetic patients. Being a food additive, these are also used as base in preparation of food products such as health drinking, soups milk shakes.
Gulshan has set up its new facility at Muzaffarnagar, Uttar Pradesh for manufacturing Malto Dextrine using non GMO rice. We use Corn and Rice as raw material to manufacture MDP at respective manufacturing facility.
Features
Easy to digest
Safe to consume
Longer shelf life
Applications of Malto Dextrine
MDP is used as a bulking base for artificial sweeteners.
It is also used as a thickener for soups, gravies, and salad dressings.
The plant source of maltodextrin in products is a pain point for people suffering from celiac disease or gluten intolerance.
Also used in the pharmaceutical industry as a binding agent in pills.
Other foods that may contain MDP for this purpose include canned fruits, desserts, protein shakes, instant pudding and sauces.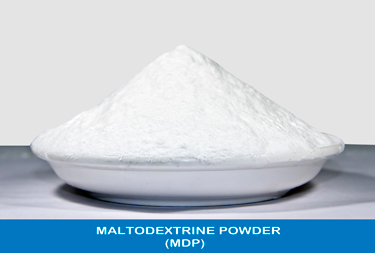 Specification
Name of Test
Specification
Physical Appearance
White Free Flowing powder
pH 10% solution
4.5 to 5.5
% D.E. (Dextrose Equivalent)
18 to 20%
Clarity (10% solution)
Clear
Packaging
GPL packages Malto Dextrin Powder in 25 kgs both in HDPE / Craft paper bags. The packaging can also be customized as per individual requirements.