Activated Calcium Carbonate
In This Section
Activated Calcium Carbonate (ACC)
We are offering a wide array of premium quality Activated Calcium Carbonate to our clients. The quality of the Activated Calcium Carbonate that we offer is very well known for the purity as well as the ease with which it can be used in multiple applications.
Activated Calcium Carbonate is produced by surface coating the Precipitated Calcium Carbonate slurry with Fatty Acids (Stearic Acid) and Titnate Coupling Agent then filtering and drying of the coated PCC slurry to produce ACC powder. The particle size, as well as the crystal form is precisely controlled by temperature, concentration of reactants and other process parameters.
Features
Highly effective
Precisely formulated
Accurate composition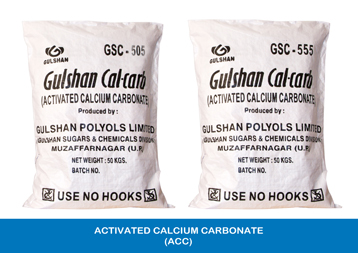 Applications
Plastic industry
Pharmaceuticals
Rubber industry
Cosmetics
Paints
Printing ink
Sealants and mastics
Specification
Properties
Unit
Specified Limit
Average Particle Size
D50
2-3.5 microns
PH (1% acqueous solution)
-
9-10.2
Bulk Density
gm/cc
0.8-1.0
Coating (Stearic Acid)
%
1- 1.75
Insoluble matters in HCl
%
< 0.5
Packaging
ACC is packed in 25/50/1000 kg Inner/linner HDPE Bags. It can also be customized as per individual requirements.