In This Section
Ground Calcium Carbonate (GCC)/ Wet Grounded Calcium Carbonate
GPL is one of the largest company offering wide range of Ground Calcium Carbonates in India. The pertaining raw materials occurs naturally & used in the form of calcite lime stone
Grounded Calcium Carbonate is processed through naturally occurring high purity calcite ores containing CaCO3 as major component. The selected raw material has to be washed, crushed ,fine grinded and then classified precisely to attain the products of exceptional consistent & desirable quality available in a variety of grades.
Two processes are used to produce GCC
A dry process line (GCC), involves a series of crushing and fine milling stages that produces a fine (micronized) product. During the processing, the material is processed & classified in dry form to attain the desired quality of the products. Thefineness (D 50) of the standard products thus obtain is 2-5) microns.
In the wet process (WGCC), the coarser powder materials obtain initially from dry process used as the raw material. The powder raw material prepared in slurry form after adding the suitable additive then made to pass through stages of wet attrition mills to get ultrafine product slurry with low viscosity of close PSD band. The slurry has The calcium carbonate slurry thus obtained is filtered & supplied through tankers & barrels or packed in dried form.
Features
High Brightness
Large Surface Area
Controlled Particle Size
High stability
Correct formulation
Easy to use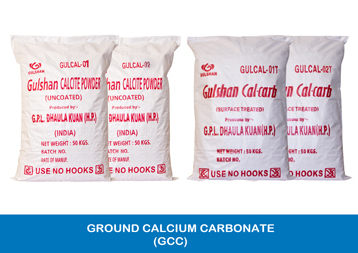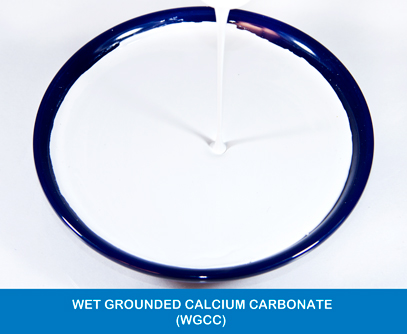 Applications
Adhesives & Sealants
Animal & Pet Feeds
Construction
Fertilizers
Glass & Ceramics
Paint & Surface Coating
Paper filler & coating pigments
Plastics
Rubber & Elastomers
Specification
Typical Chemical properties
GCC
WGCC
Calcium Carbonate as CaCo3
96-98
97-98
Magnesium Oxide as MgO
0.4- 1.0
0.15- 0.5
Silica as SiO2
0.3-0.8
0.3-0.5
Alumina as Al2O3
0.1-0.3
0.1-0.2
Soluble Alkali as Na2O
< 0.05
0.05-0.1
Iron As Fe
< 100 ppm
< 100 ppm
Polyphosphates
__
0.5-1.2 %
Loss on Drying
0.4 Max
----
Loss on ignition ( Solid/ solid %)
43.0-44
43-44
Typical Chemical properties
Brightness (ISO)
93% ±1%
93% ±1%
Mean Particle Size Range
1.5 -5 Microns
0.8 -1.5 Microns
Bulk Density (gm/cc)
0.9-1.35
Brookfield Viscosity at 70% ( #2 100 RPM)
---
150-300 CPS
Packaging
Powder GCC is supplied in 50kg HDPE Bags. It can also be customized as per individual requirements. Wet GCC is supplied in 30 Kg barrel as well as tankers as per the customer needs.