Precipitated Calcium Carbonate
In This Section
Precipitated Calcium Carbonate (PCC)
Gulshan is the prominent name in offering various grades of Precipitated Calcium Carbonate (PCC) from long back. Keeping track with market development GPL produces the valued products which are well appreciated in its market due to its quality.
PCC is synthetically processed from naturally occurring high grade lime stone.The major advantage of the product is its availability in different bulk densities from 0.40 gms/cc to 0.9 gms/cc, with brilliant white color, depending upon the requirement of end user.The assay (purity) of material is around 98.0 % as CaCO3. The material is fluffy and free from inclusions.
Packaging
Excellent optical properties
Optimum Fineness
High purity
Superior performance
Longer shelf life
Simple usage
Non hazardous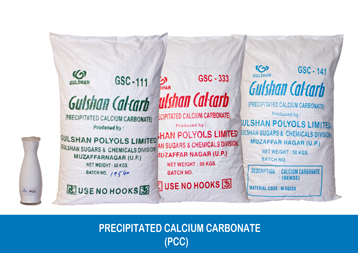 Applications
Precipitated Calcium Carbonate is used as paper coating for premium quality paper products
Rubber Industries
PVC/ Plastic industries
Flattering agent in Paint Industries
In thermal & electrical Insulators
For making Tooth Paste
Pharmaceuticals
Food industries
Specification
Name
Precipitated Calcium Carbonate
B.D. gm/ml
0.40 to 0.9 gm /ml
Residue on 325 Mesh
<0.10%
Particle Size (D50) Different Grades
2 – 8 Microns
Packaging
PCC is packed in 25/50/1000 kg inner liner HDPE Bags. It can also be customized as per individual requirements.